Ibaraki Guide: Things To Do & Jobs For Foreigners
What is it like living in Ibaraki Prefecture?
Ibaraki prefecture in Japan is located just north of Chiba and is famous for its natural environment. 
Mito city, the capital of Ibaraki, is only a short distance from central Tokyo by car or train (about 90 minutes). Ibaraki is a place of things to do that has a bit of everything that makes Japan special, and if you are an individual who enjoys nature and living a relaxed life, Ibaraki is the place for you. 
Whether you are an outgoing person or not, Ibaraki prefecture has many interesting places for you to consider. So without further ado, here is a guide to all the tremendous things to do in Ibaraki.
A Guide To Things To See & To Do In Ibaraki
1. Mito City
First on our list of things to do in Ibaraki is The Mito city which is the capital city of Ibaraki prefecture. It has a fair amount of attractions that you can see, including the Ibaraki castle ruins, Hitachi seaside park, and Kairakuen gardens (that we'll cover later in our Ibaraki guide). 
The city's climate remains relatively cool and is quite accessible to central Tokyo via train or car.  What's more, you can easily access several beaches such as Ajigaura beach during the summer with proximity to the ocean.
2. Mito Castle Ruins
Another exciting thing to do in Ibaraki is the Mito Castle Ruins. In particular, this castle rose to prominence during the Edo era when Tokugawa Ieyasu designated Mito city as a key base for one of his three branch families. In 1764 a large fire destroyed many nearby buildings and, the castle was later decommissioned. Nevertheless, it remains a point in history, and you can still see the gate within the city.
3. Mito Han School
 In 1841 the 9th daimyo Tokugawa Nariaki established the school.
Roughly an 8-minute walk from Mito station, this site was a former clan school of the Mito branch of the Tokugawa clan. For the retainers and associates of the Mito branch, the school was an important landmark for learning military and literacy. Unfortunately, many of the older buildings were destroyed during the feudal wars.
However, the Mito Han School still has a meditation hall, gates, and auditorium, which you can visit. What's more, over 800 plum trees are located on the premises, and the park itself remains a popular place to view the trees during later February and early March. If you are interested in learning more about the history of Mito, we recommend checking out the Mito Han School. To find out more about the Mito Han School, please click here.
Otherwise just add it to your list of things to do in Ibaraki, we're confident you won't be disappointed.
4. Kairakuen Gardens
Kairaku-en gardens are easily one of the most famous locations in Ibaraki. Along with Koraku-en in Okayama and Kenroku-en in Kanazawa, it is known as one of Japan's 'three finest landscape gardens. 
Kairakuen is famous for its large amount of plum trees. Like Mito Han school mentioned above, if you wish to admire the plum blossoms, it is a popular destination to visit during late February and early March. If you do go during this time, be aware there may be crowds as the garden celebrates its "Mito Plum Festival'.
5. Ajigaura Beach
At only a 25 minute drive from the city or an hour train ride, Ajigaura is a popular breach in Ibaraki and contains a number of hotels, shops, and facilities for you to enjoy a summer day by the sea. If you decide to drive, we recommend that you arrive early as parking is limited and the beach remains massively popular with the locals. Ajigaura beach is also a short distance from Hitachi Seaside Park – another aquatic-themed thing to do in Ibaraki.
6. Hitachi Seaside Park
Hitachi Seaside Park is another location that remains a popular destination for not just people in Ibaraki but also those who live in Tokyo. 
The seaside park is close to the ocean and has various thousands of flowers displayed throughout the year (the flowers in spring are arguably the most famous). Tulips, chrysanthemums, and roses are just some of the many flowers you can see in this impressive park.
While in the park you can also ride the seaside train to get around. To find out more about the park, click here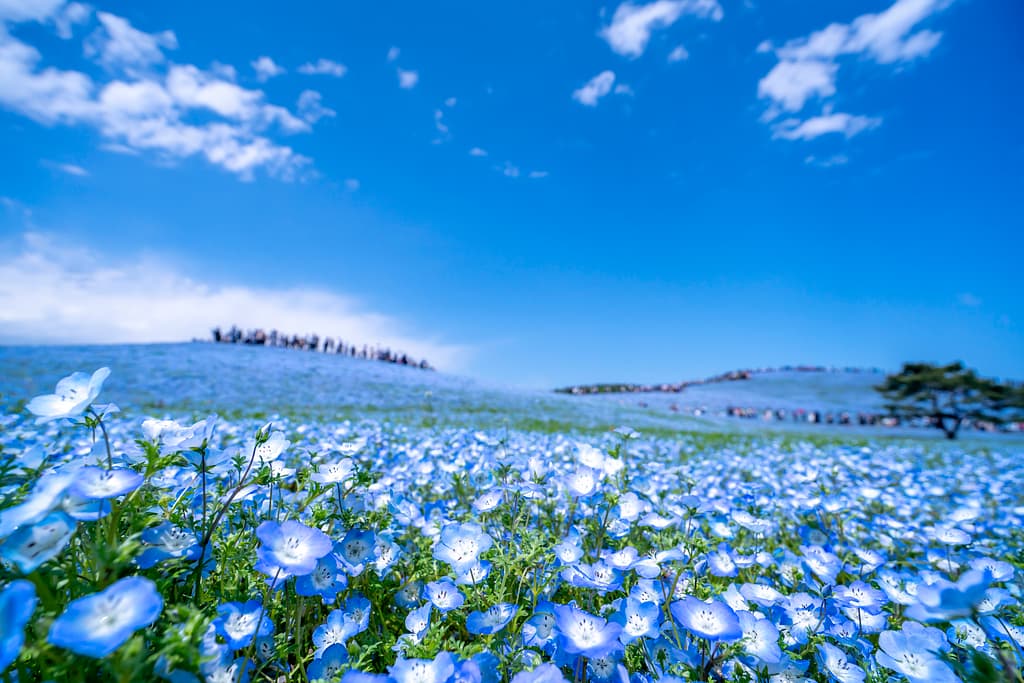 7. Hitachi city 
A city that is famous for its history for its company of the same name and its history of power points, appliances, and electronic products. 
8. Tsukuba
Tsukuba is a city 40kms from Narita airport, famous for its university (Tsukuba University) along with a handful of other exciting aspects.Tsukuba can be found in the Kantō region (a memorable place for Pokémon fans alike), situated on Honshu island.
There is no shortage of things to do in Tsukuba, Ibaraki. Explore the verdant Mount Tsukuba, the picturesque Tsukuba Shrine, or the JAXA Tsukuba Space Centre (the HQ for Japanese space exploration).
9. Ibaraki Airport
Ibaraki Airport is a small domestic airport located in Omitama. Interestingly Ibaraki Airport also serves as an air base for the Japan Air Self-Defence Force (JASDF) under Hyakuri Air Base. This is also the closest fighter base to Tokyo, and as such is intended as a low-cost alternative to some of the more expensive airports in Tokyo.
The airport has actually been under scrutiny as being a waste of public funds, as Ibaraki Airport usually only sends out one flight a day.
However, this doesn't stop it being a popular spotting point for plane enthusiasts with numerous spotting points such as The Peace Towers, Holding Point rwy03 and The Panthoms Hill.
10. Tsukuba Space Center
Tsukuba Space Centre (TKSC) is a must on your list of things to do in Ibaraki, or more specifically Tsukuba. The TKSC is also known famously by its radio callsign, Tsukuba – relatively easy to remember thankfully.
It is the headquarters and operations facility for Japan Aerospace Exploration Agency, basically where all the space stuff goes down. You can explore the place where JAXA trains new astronauts, builds satellites to go into space, and probably most excitingly sends people into space!
Described as a 'fantastic place to enjoy and learn about space and space exploration' if you're a space fanatic you'd kick yourself visiting Japan without adding this beauty to your list of things to do.
11. Mount Tsukuba
Mount Tsukuba is one of the most famous mountains in Japan, located just near Tsukuba, Ibaraki. Particularly known for its 'double peaks', Nyotai-san and Nantai-san, many people scale the 'purple mountain' every year to discover the panoramic views of the Kanto region from the summit.
Surprisingly out of all Japan's most famous mountains, Mt. Tsukuba has the lowest peak making it quite a popular destination for a day out. There are numerous ways to get to Mt. Tsukuba, hiking, bus and shuttle bus, driving, there is also the option of cable cars to the top if you're not feeling a walk.
The cable cars offer a beautiful view while you slowly ascend or descend the glorious mountain, and take in the breathtaking views (night or day).
12. Oarai Isosaki Shrine
As one of Ibaraki's most prominent attractions, if you're looking for things to do and are interested in history and culture, the Oarai Isosaki Shrine may be right up your alley. On the coastlines of Ibaraki, the ancient shrine faces the pacific ocean while waves collapse at its base.
It is said that the shrine was established in 856 (A.D.) when two gods are said to have come down to Earth in the sea off the coast of Oarai. The main building was actually destroyed in a fight in the 16th century but was later rebuilt in the 17th century.
Having three torii gates, each gate offers a completely new view with a different environment. A truly beautiful place to visit in Ibaraki, a sight equally as stunning in the moonlight as it is in the sunrise.
Guide to Food in Ibaraki
The Ibaraki prefecture is famous for many fresh fruit and vegetables, and you can even go picking several times in the year. Making the perfect spot for vegans, vegetarians and everything in between!
If you're on the search for the freshest and tastiest food in Japan, luckily that's just one of the things to do in Ibaraki – alongside its vast history, nature and relaxed environment.
Strawberries 
Strawberries are best picked throughout late February and early March, but a number of places throughout the prefecture offer January to April as an acceptable time frame. If you are interested in hunting strawberries, be sure to click here for more information.
Melon
From early May and several times throughout the latter half of the year, you can also go melon picking in Ibaraki. The melons that you can pick are often a nice green in color and are quite sweet. 
Hitachi Beef (Gyu-Don)
Although not a fruit, Hitachi beef (beef bowl) is nationally renowned throughout Japan for its high quality. And is a very popular item on fast-food menus, even though it is a simple rice-bowl meal it is packed with flavour. 
The fat from the Hitachi Beef is said to be very tender and juicy which also gives life to the rice, making for one flavourful bowl! 
Jobs For Foreigners in Ibaraki
Finding a job in Japan, or more specifically in Ibaraki is not as hard as you may think, with the help of agencies such as ourselves we can help you find the best job with ease.
We help prepare everything from your CV, cover letter and interviews to your flights and accommodation. Discover the most popular jobs in Ibaraki right now, and check out our job board for more information.
Software/Game Developers – In a country as heavily advanced as Japan, it's no surprise that common jobs include a wealth of software and game development, from video game support and IT to AI, data analysis, BI tools and data mining. Get ready to say GG!
Education – Education includes everything from ALTs and conversational instructors to assistants and teachers, and can be a great way to turn your native tongue into a means of making money.
Agriculture – Especially if you're only temporarily visiting Ibaraki, farm and agriculture work in Japan can be an extremely beneficial way to earn a living (at least for the time being). With a roof over your head, fresh food and the chance to learn about rich culture up close and personal, what more could you want?
Caregiver – The majority of which require an N4 or N4 equivalent Japanese ability, so it is very much worth learning at least basic Japanese speaking before flying over. Being a caregiver provides you with the opportunity to meet new people, learn and help support someone in their activities of daily living.
Restaurant Work – From chefs, cooking assistants and servers to food delivery, dishwashers and Sommeliers, restaurant work can provide the perfect opportunity to practice your Japanese all while experiencing rich culinary delights.
Logistics/Driver – Similar to the other jobs this can be a great way of making some money while on your working holiday. However, you will need a Japanese driving license.
Guide to Accomodation in Ibaraki
As like everywhere in Japan there is no shortage of places to rest your head. Whether it be for a couple of days to a week or a few months while on a working holiday or visa. Here is a guide to accomodation in Ibaraki.
Hotels – Ibaraki has an amazing assortment of both grand and budget hotels to stay. From the Mito Plaza hotel to the OYO Hotel Sunshine Koga, Ibaraki has tremendous things to do and see, and places to sleep!
Self-Catering Cottages – If you're looking for something a little bit more independant there are a gorgeous array of self-catering cottages lined on the seaside, soaking up the atmosphere, warmth and culture.
Farmhouse – As with all farm jobs in Japan, there is most likely an option to stay onsite during your working period, this is no different for Ibaraki. With reduced board and meals provided, you'd be mad to pass up this opportunity!
Apartments – There's a wealth of apartments and shared accomodation options available in Ibaraki. Whether you're on the lookout for a Leopalace, Sakura House, or just an apartment, Ibaraki has everything you need.
What do you think about living in Ibaraki prefecture?
For more of our original coverage of various prefectures in Japan, click here.