Being Vegan & Vegetarian in Japan: 10 Dishes & Snacks to Try
Being Vegan & Vegetarian in Japan: 10 Dishes & Snacks to Try
Nervous about visiting Japan as a vegan or veggie? Don't worry, it's not as hard as you think! 
Being vegetarian and especially vegan in Japan is still unfamiliar. With many Japanese dishes using seafood, egg, and animal-bone broth, it's tricky to find vegan food in some areas.
However, an increasing number of vegetarian and vegan restaurants are popping up in Tokyo, and the Happy Cow app is helpful for finding vegan food all over Japan. Here are 10 tasty vegan and vegetarian dishes to look out for, alongside some top tips for being vegan in Japan. 
10 Vegan & Vegetarian Foods to Try in Japan
Soy Ice Cream
Japan loves soy, so you'll have little trouble tracking down products like soy milk and bean curd (tofu). This also means soy ice cream is easy to find, and Japan's is amazing! Treat yourself to a luxurious sundae in one of Tokyo's vegan cafes, or scout out the supermarket for a tub.
Onigiri (Rice Balls)
Onigiri are rice balls – they're easy to find in Japanese convenience stores. Wrapped in seaweed and stuffed with fillings like ume (pickled plum), konbu (seaweed) and sekihan (red bean), they're a great little snack for vegans in Japan. Just check they're not flavoured using fish.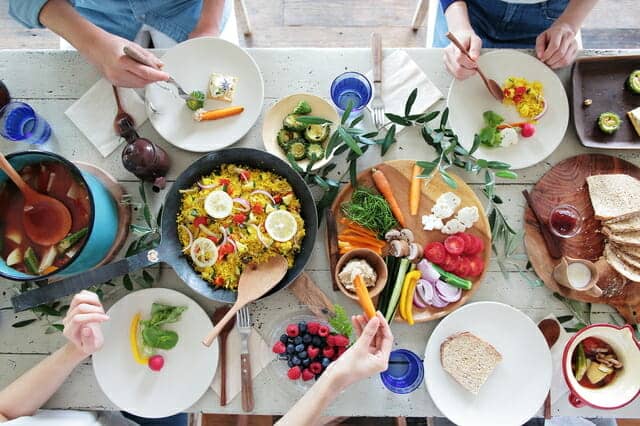 Vegan Sushi 
Not all sushi involves seafood, it actually means "vinegared rice", so don't panic if you're headed to a sushi restaurant. Ask for choices that use vegetables, such as cucumber or oshinko maki (pickled vegetable rolls). Again, watch out for dashi, a popular stock that's often fish-based.
Vegetable Tempura
Battered and fried vegetables aren't the healthiest choice, but they're one of the tastiest snacks available for vegans in Japan. Popular types include nasu (aubergine), kabocha (winter squash) and piman (green bell pepper). Look out for them in restaurants and street food kiosks. 
Tofu Ramen 
Who could say no to a big bowl of steaming ramen? If you're vegan or vegetarian, it's not impossible to find meat-free versions of Japan's famous noodle soup. Look for restaurants offering tofu ramen with vegetable-based broths, or make your own if you have a kitchen.
Matcha Soy Latte
Don't miss out on matcha; the tea powder that adds a green shade to many hot drinks and desserts in Japan. Most cafes in Japanese cities serve a great matcha latte, and many have soy milk in stock. However, almond milk, oat milk and coconut milk is yet to catch on in Japan.
Green Burgers
If you've found a vegan or vegetarian restaurant in Japan, tofu or tempeh burgers are a winning choice. But did you know that Mos, Japan's most popular burger chain, now has its own plant-based burger? Their (literally) Green Burger is made from soybean, cabbage and spinach.
Sho-jin Ryouri
The traditional vegetarian cuisine of Buddhist monks in Japan, Sho-jin Ryouri is a must-try for vegans in Japan. It can be a little pricey, but you won't regret it. As well as skipping animal products, these healthy dishes achieve a perfect balance of five colours and five flavours.  
Macrobiotic Diets
Focusing on organic, locally grown and seasonal produce, macrobiotic diets are booming in popularity in Japan. Using whole grains, fruits and vegetables, and bean products, recipes barely ever need meat – look out for macrobiotic dishes, or buy fresh produce to make your own.
Vegan Bakeries
Japanese bread almost always contains milk or eggs, so vegetarians can enjoy a huge range of sweet and savoury baked treats all over Japan. Vegan bakeries are taking Tokyo by storm too, meaning carb-loaded classics like the anpan (red bean bun) can be enjoyed by everyone.
6 Tips for Being Vegan & Vegetarian in Japan
Being vegan in Japan can be a challenge, especially outside of trendy cities like Tokyo and Kyoto. You'll have a much easier time (and avoid mistakes) if you remember some of these tips below.
Familiarize yourself with the language

– unless you want to play charades, learn how to say you don't eat meat, fish or animal products. Or carry a card to show to people. 
Use apps like Happy Cow

– these will point you in the direction of any vegan and vegetarian restaurants in your area, so you can relax and choose from a whole menu.
Plan ahead and be prepared

– stock up on vegan snacks and products at

convenience stores

, just in case you find yourself somewhere without any vegan food to eat.
Learn some basic recipes

– Japan loves soy, noodles, and pickled veg, so there are plenty of dishes you can buy ingredients for and make from scratch, if you have a kitchen.
Visit vegan-friendly cities

– Tokyo and Kyoto are having a boom in new vegans and vegetarians, while Osaka (although famous for its food) is still very meat-focused. 
Look out for animal-based stocks

– a lot of Japanese cuisine uses fish for flavour, so look out for dashi, broths and bonito fish flakes hidden in dishes that are otherwise vegan.
4 Unmissable Vegan & Vegetarian Restaurants in Tokyo
If you want a whole menu of plant-based dishes, vegan food is easy to find in Tokyo. Here are some of the best vegetarian and vegan restaurants in Japan, in the country's bustling capital.
T's Tantan
Buried within Tokyo JR station, T's Tantan serves some of the best vegan ramen in Japan. Satisfying enough for vegans and omnivores alike, they also do curries, gyoza and ice cream.
Tudore Tranquility
An award-winning venue near Yoyogi Park, this is one of the most luxurious vegan restaurants in Tokyo. They serve exquisitely-presented vegan dishes, including an elegant 8-course dinner.
Olu Olu Cafe
A Hawaiian-themed cafe with an extensive menu for vegans and vegetarians in Tokyo. Look out for their Pina Coladas, spicy Thai rice, and mango and coconut cake – all praised as delicious.
Ain Soph
With multiple branches throughout Tokyo, this fancy vegan restaurant in Ginza is worth booking in advance. Look out for their fluffy pancakes and beautifully arranged bento boxes.