Health in Japan

Life in Japan
What Are The Most Popular Sports In Japan | Top 10
Have you ever wondered what the most popular sports in Japan are? Obviously sumo wrestling springs to mind, but would you have guessed that baseball is the most popular sport in Japan?
Keep reading to find out everything you need to know about the top 10 sports in Japan. If you're considering working in Japan, you should take some time to watch some of these sports in person whilst you're there.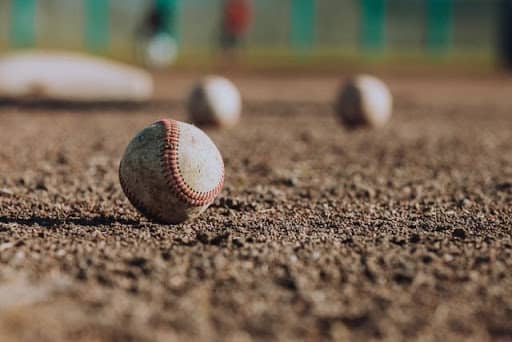 1. Baseball (Yakyū)
Known as Yakyū, baseball is hugely popular in Japan. Even though it came from the US, baseball is often jokingly referred to as Japan's national sport, as it's by far the most popular sport in Japan.
In fact, some Japanese players have played in the MLB (Major League Baseball).
The sport was first introduced to the country by an English professor called Horace Wilson in 1872. He taught his students how to play and was so influential in his teachings that it caught on and baseball soon became popular nationwide. 
A professional league was formed in 1936 and today there are 12 teams in Japan's premier league. Now one of the biggest sports in Japan, millions of people tune in to watch baseball games that are broadcast. 
The professional league is split into central and pacific leagues, and the atmosphere of the games is described as electric. The theatrics are similar to those you would find at an American football game. 
Respect for opponents is of the utmost importance, and booing the opposition is heavily frowned upon. 
Japanese baseball is slightly different to American baseball. The ball is smaller, as are the strike zones and the playing field. Also, regular games are limited to 12 innings, and the playoffs are limited to 15 innings. Meaning that draws are possible.  
High school baseball championships are very popular too. A highschool championship takes place every summer known as summer koshien that lots of people watch. 
If you want to watch a professional game, tickets cost on average between ¥3000 & ¥10,000, but they can be difficult to obtain if you don't speak Japanese. Betting on baseball is popular too. 
The Japanese are very good at baseball. In fact, they've won the world baseball classic tournament twice, and their national team is ranked as one of the best in the world by the World Baseball Softball Confederation.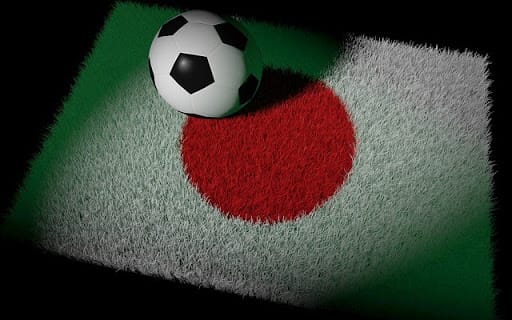 2.
Football/Soccer (Futtobōru or Sakkā)
You're probably already aware that football is the most popular sport in the world, so it's no surprise that it's one of the most popular sports in Japan too. 
They're quite good at it as well. Having first entered the world cup in 1998, Japan has participated in every revolution since, reaching the eighth-finals (round of 16) three times.
The men's national team is known as the samurai blue, and the women's national team is known as the Nadeshiko, after a Japanese flower. 
Interestingly, the women's football team in Japan is more impressive than the men's team!
They won the world cup in 2011 vs the US, becoming the first Asian nation to win the world cup.
They also reached the world cup final in 2015, and the eighth-finals in 2019.  
The success of the team is cause for the growing popularity of the sport across the country. 
Football was introduced to Japan by Lieutenant-Commander Archibald Lucius Douglas of the British Royal Navy, who taught it to Japanese Navy cadets between 1873 and 1879.
In 1930, Japan formed their first official national football team, and they made their debut at the 1936 Olympic games. 
The first national football league was organised in 1965 with 8 amateur clubs. Today, the Japanese Professional League, known as the J.league is the officially recognised league. 
The J.league was formed in 1992 with 9 professional teams. Since then, it has grown a lot. It's now made up of the J1, J2 and J3 leagues, with J1 being the highest level. There are 56 teams across all 3 leagues, with 20 teams in the top-level J1 league. 
Football is one of the most famous sports in Japan and football manga is also very popular. Captain Tsubasa was a massive hit when it was released in 1981. 
Some popular Japanese football players you may have heard of include Hidetoshi Nakata, Shinji Kagawa and Shunsuke Nakamura.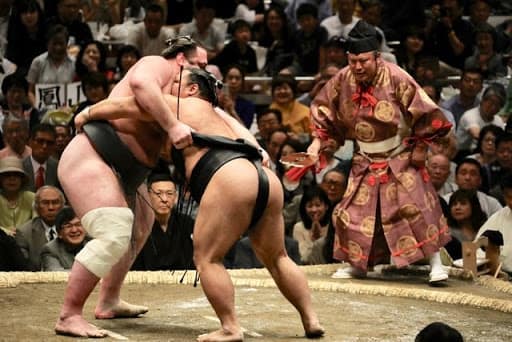 3. Sumo Wrestling – The national sport of Japan
Sumo is almost synonymous with Japanese sport. Unique to their country, it's their national sport and one of the most famous sports in Japan.  
It's one of the biggest sports in Japan and it has some of the biggest athletes too.  The full-contact sport pits two gigantic athletes against each other. Each aims to push the other out of a ring known as a Dohyo. 
Sumo wrestlers are known as rikishi, which literally means wrestler. Most wrestlers weigh between 100 – 200 kg.
The first rikishi to leave the circle, or touch it with any part of their body other than their feet loses the sumo bout. 
If a sumos belt (mawashi) comes off during the competition, they are also disqualified. This rarely happens, but as you can imagine, it's embarrassing when it does!
Most sumo bouts only last a few seconds with longer games durations reaching a minute or two. 
Although, the longest bout in modern sumo lasted 32 minutes. This was in 1951. 
The life of a sumo wrestler is bound by strict rules. Most sumo wrestlers live in communal training stables where they spend their lives training.
Only those at the highest level can live outside of the stables and have somewhat normal lives outside of the sport. 
Professional sumo wrestling began in Japan in 1684. Although, its roots can be traced back over 1,500 years. It is thought to have been started as an annual ritual to please the gods in hope for better harvest results for that year. 
Today, there are six major annual sumo tournaments, all spanning 15 days each.
Sumo is more popular with the older generations in Japan. The younger generations are more interested in modern sports. Sumo is still very popular with tourists though. 
4. Tennis (Tenisu)
Tennis has risen from humble beginnings in Japan to become one of their most popular sports. In fact, it's amongst the most-watched sports in Japan. 
There are lots of tennis courts in japan but be aware, they're popular, so it can be hard to find one to rent. 
Japanese people first started playing tennis in 1878, when five tennis courts were opened in Yamate park. The courts were actually designed for use by foreigners. 
Tennis was further popularised when a man named George Adam Leland brought his western-style physical education teachings to Japan. Within his p.e teachings, he promoted tennis. 
Although, tennis balls were expensive to produce and, as a result, cheaper, softer balls were used in their place. Tennis played with soft balls is known as soft tennis, and it's still taught in Japanese schools today. 
Japan as a nation has seen some success in the sport. They won their first Olympic medal in tennis in 1920. Following this, the Japan Tennis Association (JTA) was formed in 1922. 
Even though it's one of the biggest sports in Japan, only one male Japanese player has ever placed in the top ten world rankings. He is a very impressive player though. 
His name is Kei Nishikori, and he reached the top 5 in singles. World no.4 is his career-high. He's won 12 singles titles and was the first male player to represent an Asian country at the grand slam finals. 
5. Golf (Gorufu)
Golf is another popular sport in Japan that has origins in the west. The popular sport was introduced to Japan following the 1868-1912 Meiji Restoration. 
A British man living in Japan named Arthur Hesketh Groom opened the first golf club on Mount Rokko in 1903. The club, named Kobe Golf Club began as a 9 hole course, but a further 9 holes were constructed to create a full 18 hole course in 1904.
In 1914, the first golf club for native Japanese people was opened in Komazawa, Tokyo. It was aptly named, the Tokyo Golf Club.  
The sport proved quite popular, and by 1924 there were 7 clubs in Japan, who came together to form the Japanese Golf Association. 
71 golf courses were open by 1940, but they were usually reserved only for Japan's elite.  
WW2 disrupted the class systems in Japan, and afterwards, golf was more accessible, and the middle classes started playing, which further boosted the sport's popularity in Japan.
There are now about 2,500 courses countrywide, which is more golf courses than the rest of Asia put together!
Golf is known to be one of the slowest sports to embrace gender equality, and it's the same in Japan.
In fact, a common misconception is that GOLF is an acronym for Gentlemen Only Ladies Forbidden. 
Although this is actually a joke. It's much more likely that the word golf comes from the word club.
Today though, both men and women are welcome to play golf, and it's one of the most famous sports in Japan. 
The only thing that might stop you is a language barrier, so make sure to brush up on your Japanese before you go for a round. 
6. Boxing (Bokushingu)
Boxing is another import of western culture that has become one of the biggest sports in Japan. It was first introduced to the country when Commodore Matthew Perry (no, not Matthew Perry from friends) visited Shimoda, Shizuoka, Japan.
American Navy soldiers on ships under his command would often spar with their hands wrapped in leather aboard their ships. This was the first instance of boxing seen in Japan. 
Interested in the fighting style, the Japanese shogunate (military directors) ordered a sumo wrestler called Tsunekichi Koyanagi to engage in fighting competitions with an American boxer and a wrestler. The Sumo wrestler won the fights. 
Since then, boxing has grown to become a sophisticated and regulated sport in the land of the rising sun. 
According to the Japanese Boxing Commission (JBC) rules, all professional boxers in japan must belong to a gym and have a contract with a manager.
Also, two boxers belonging to the same gym are not allowed to fight each other.
Another interesting fact is that not many Japanese boxers hold or even try to win world titles. 
The JBC rules encourage boxers to fight inside the country. The country has produced a few world champions across the weight categories though. 
The first of whom was Yoshio Shirai, who won the world flyweight title in 1952 and defended it 4 times. 
Two Japanese fighters have also won gold medals in Olympic boxing. Takao Sakurai won gold at the Tokyo Olympics 1964, and Satoshi Shimizu won gold at the 2012 London Olympics.
The most entertaining annual boxing tournaments to watch in Japan are the All-Japan Rookie King and Japanese Title Elimination Tournament. So, make sure to give these a watch if you're into boxing. 
7. Basketball (Basukettobōru)
Basketball is another sport of western origin that is one of the most popular sports in Japan. 
In fact, their national team is one of the best in Asia. The Japanese national basketball team has one the FIBA Asia Championship twice. 
Fiba stands for the Federation Internationale de Basketball Amateur or The International Basketball Federation in English. 
Basketball really started in Japan in 1930, with the formation of The Japan Basketball Association. It's grown massively in popularity since then to become one of the most famous sports in Japan. 
The current major basketball league in Japan is known as the B.League. The B.League started in 2016 and is the official men's professional basketball league. 
Just like the J.League for football, the B.League is broken down into 3 divisions: B1, B2 and B3. B1 is the most advanced level of play. 20 teams play in the B1 division, 16 in the B2 division, and 11 in the B3 division. 
If you're into basketball, you may have heard of Yuta Tabuse and Takuya Kawamura.
They are very great players whose influence has driven the popularity of basketball in Japan. Yuta Tabuse even played some matches in the NBA (National Basketball Association).
Basketball is very popular in Japanese high schools. This may partly be because one of the best selling manga series in history was about high school basketball. It's called Slam Dunk.
8. Auto Racing (Jidōsha rēsu)
Japan has a thriving automotive industry, and with so many great car manufacturers, there's a lot of great racing too!
Their most notable brands include Toyota, Honda, Nissan, Suzuki, Lexus, Daihatsu, Mazda, Subaru, Mitsubishi and Isuzu.  
Auto racing competitions officially started in Japan in the 1920s. 
It wasn't until 1936 though, that the Tamagawa speedway opened, giving Japan a dedicated track for competitions. Early competitors brands of the track included Honda and Nissan. 
Another popular track, the Suzuka circuit was opened in 1962 and has hosted many world-class racing events since,  including F1 races. 
The fuji speedway is another highly regarded Japanese racetrack that was opened in 1963.
Most of the notable races in Japanese auto racing history have taken place at these tracks. 
Today auto racing is one of the biggest sports in Japan, and there are more than 20 official race tracks across the land of the rising sun. 
Outside of the very official auto sports competitions, drift racing is a growing subculture of motorsport in Japan that attracts international attention. 
The sport is gaining popularity because of its intense nature, lower barriers to entry, and the ability for the crowd to get close to the action. 
Another reason for its growing popularity could be contributed to the popular Anime series Initial D, which is about drift racing and set in the Kantō region, which is not far from Tokyo. 
The annual Tokyo Drift Competition in Odaiba, Tokyo is one of the biggest events annually, with sponsors including Dunlop, Goodyear and even Monster Energy supporting the event. This is definitely worth watching if you're in the local area. 
9. Pro Wrestling (Puroresu)
Japanese pro wrestling is another very popular sport in Japan. It's similar to the American style of wrestling like the WWE but there are some differences. 
It is a theatrical sport where the fights are choreographed, and the winners are pre-decided.
Although, lots of the wrestlers have real martial arts backgrounds and full contact striking and shoot submissions are common. 
Also, the acting is less dramatic. People treat the fights like they are real, and the backstories are based on the competitors fighting spirits rather than personal dramas. 
The first wrestling matches were televised in Japan in the 1950s, and the sport was immediately very popular. In fact, its popularity peaked around the time it was first televised, almost instantly making it one of the most famous sports in Japan.
The New Japan Pro-wrestling Co. Ltd is a wrestling promotion company that was founded in 1972. They continue to drive the appeal to a wide Japanese audience, Consistently achieving yearly revenues above 5 billion yen!
Many people believe the athletics in Japanese wrestling are superior to that of US wrestling, making it a thrilling sport to watch. 
You can buy tickets to watch puroresu at one of the many live organised events, or you can stream the events online. It's a very entertaining sport, and definitely worth checking out if you're a wrestling fan!
10. Skiing (Sukī), Snowboarding (Sunōbōdo) & Other Snow Sports (Sunōsupōtsu)
If you're into winter sports like skiing and snowboarding, Japan should definitely be on your list of places to visit. Snowsports are very popular in Japan, and for good reason!
70% of the country is mountainous, meaning you're never short of a hill to ski down when it snows. In fact, There over 500 resorts in Japan, which is the most of any country in the world!
Skiing and snowboarding are some of the most famous sports in Japan, and some of their athletes are famous worldwide. This is to be expected though, because they have some of the best snow in the world, with frequent downpours of incredible powder.
Cold winds travelling from Siberia across the sea to the Japanese islands collect lots of moisture, which is manifested as an average of around 600 inches a year of some of the best snow in the world. 
January and February are usually the best times of the year to go skiing in Japan, and there's a warm and welcoming culture that will make you feel very at home. 
Skiing is even taught in schools in northern parts of the mountainous country, which probably contributes to their various successes in the winter Olympics. 
Namely, Japan is very good at ski jumping, often winning medals at the Olympic games. They won all three Olympic medals in the 1972 70 meter jumps. 
Which popular sport in Japan do you like the best? 
Now you know a little bit about some of the most popular sports in Japan, which one is your favourite?
If you're looking to experience the most popular sports in Japan first hand, why not move out there for a bit? 
At Link Japan Careers we specialise in helping English speaking people find jobs in Japan. Visit this page to find your dream job in Japan.