Places to Hike in Japan | 10 Best Self-Guided Walks & Trails
Although Japan is mostly known for its culture and technologically advanced cities, there is often one aspect that is largely overlooked – mountains! Well not just mountains, self-guided walks, trails, hikes, you name it. Japan offers the best places to hike with jaw dropping views that make all the walking worthwhile. 
The fact that Japan is made up of two-thirds of mountains is often overshadowed by the rest of what Japan has to offer. From volcanoes to ancient trails once graced by the presence of emperors, there is no end to the beauty and sightseeing at your fingertips in Japan. 
Whether you've planned to explore Japan for a few weeks to experience Japanese culture firsthand, or have decided to devote part of your Japanese working holiday to set foot outside the hustle and bustle of city life, make sure to discover the other side of Japan. 
Below is a list of our top picks for the best hike in Japan, immerse yourself in the best self-guided walks and trails a truly culture-infused country has to offer.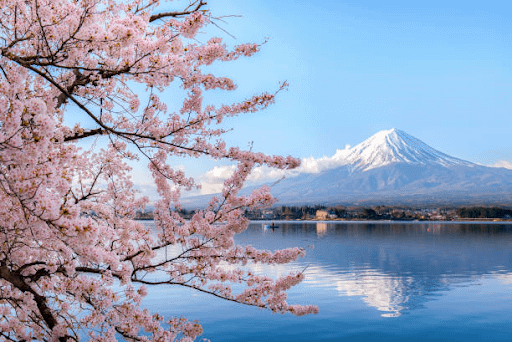 Mount Fuji
Mount Fuji, an active volcano a short distance from the south-west of Tokyo is one of Japan's most notable attractions, even considered the sacred symbol of Japan. 3,776 meters tall, Mount Fuji is Japan's tallest point and as you can imagine is quite a hike.
Many climb Mount Fuji to reach the shrine at its peak, an image that has been depicted countless times – however most notably in 'Hokusai: Under the Wave off Kanagawa' where it appears off in the distance. The hike to Mount Fuji is in fact one of the best and most beautiful hiking trails in Japan. 
When to Visit Mount Fuji
Most visit the volcano in July and August as this is when conditions are most preferential to hike, some facilities are also available in September also. Unfortunately, Mount Fuji is extremely dangerous to conquer throughout the rest of the year, leaving you a short window to experience the glorious heights it has to offer.
Fuji Five Lakes (Fuji Goko)
Climbing the mountain has long been established as a religious practice, the majority set out at night to reach the summit by dawn to see the sunrise. The hike to summit provides much more than just a regular old hiking trail in Japan and offers an experience to be brought closer to the heritage and culture of Japan (up close and personal).
The summit greets much more than a wave of success, from the peak you can train your eyes at the beauty of Mount Fuji's 'Fuji Five Lakes' (Fuji Goko). 
Made up of the five lakes; Lake Kawaguchi, Lake Motosu, Lake Shōji, Lake Yamanaka and Lake Sai that are said to be formed by the damming effects of the lava from the volcano. The scene-stealer though is Lake Kawaguchi, famous for its inverted reflection of Mount Fuji on its calm, cerulean water.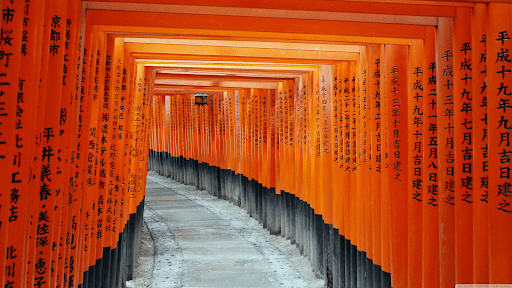 2 Fushimi Inari Shrine
Fushimi Inari Shrine (or Fushimi Inari-Taisha), is the head of the shrine of the kami Inari in Fushimi-ku, in the Kyoto Prefecture. While the main reason foreign travellers come to visit the shrine being the walking trails, there's more to be said for the shrine than just the walks.
How Long is the Fushimi Inari-Taisha Walking Trail?

The walking trail itself isn't actually that long, averaging at roughly two to three hours to hike to the peak of mount Inari and back down. With that being said, if you're looking for places to hike in Japan to get your steps in and burn off all the Japanese cuisine, Fushimi Inari Shrine is just the place. With over 12,000 steps and 10,000 torii (gates), you can be sure the Tempura or Udon you had for lunch is well and truly gone.
When to Visit Fushimi Inari
Luckily for those of you that are night owls, Fushimi Inari is one of the few shrines in Kyoto that is open past 6pm – and is in fact open 24 hours a day, seven days a week, all year round! The shrines and the walking trail is lit just enough to guide you through, and not enough to ruin the experience.
You are however free to come and go as you please with the majority of people occupying the space between 9am to 5pm. Fortunately, if you're eager to make this adventure solo, the crowds begin to disperse once you get to the Yotsutsuji intersection, with most heading back when you reach this point. Leaving you to experience one of the best and brightest walks in Japan without interruption. 
Local Cuisine 
Hiking, walking, following trails in Japan can be hungry work, starving even. If this statement resonates with you, you'll be glad to hear that Fushimi Inari has a few restaurants throughout their walking trails. 
Each of these restaurants offers local dishes such as Inari Sushi and Kitsune Udon (Fox Udon), each featuring the delicious aburaage (fried tofu) sure to put a spring back in your step. 
The Fushimi Inari Shrines
While the walk is the main talking point of Fushimi Inari, the shrines themselves also shouldn't be overlooked. 
There is a lot to be explored within the shrines, starting with the fact that the torii gates were originally painted white for sacredness, but were repainted red and with mercury to protect against evil and ensures that the gates will stand the test of time.
At the Fushimi Inari shrine's entrance is the Romon Gate, donated by Toyotomi Hideyoshi back in 1589. Behind the gate stands the main hall (honden) in which it is customary for visitors to pay their respects to the residency deity by making a small offering.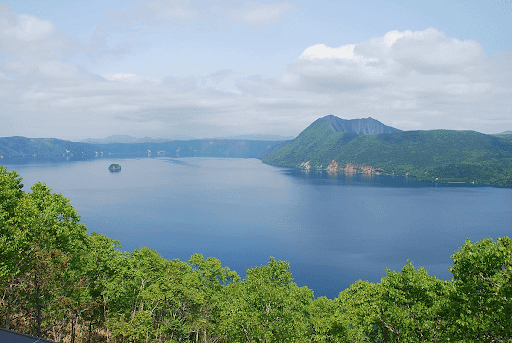 3. Akan Mashu National Park
Akan Mashu National Park as its name suggests is a national park residing on the island of Hokkaidō, Japan. The national park is situated in Akan, an area of volcanic craters and forests covering a vast space full of clear water, beauty and long self-guided walks in Japan. 
The park is separated into two separate parts, Kawayu and Akan. Akan is the smaller western segment that homes the Lake Akan's glorious hot spring, and the larger more eastern segment, Kawayu is where you can find more lakes and mountain hiking trails (a definite must see in Japan).
What to do in Akan Mashu National Park 
Akan Mashu National Park has endless views to gawk at, from the Tsubetsu Pass Observatory (sea of cloud watching experience) to Mount Meakan, offering some of the best Volcanic scenery in Japan.
Famous for its crystal clear waters (despite the fog), hot springs, and large marimo. Akan National Park is home to three distinct exotic lakes including Lake Mashu which is said to be Japan's most beautiful lake. 
For those of you looking for an adventurous hiking experience, Akan National Park is no letdown. With not only one but three notable hikes and walking trails; in the hike to the top of Mount Oakan, there is a walking trail around part of Lake Mashu, and the star of the show, Mount Meakan. Mount Meakan is an active volcano offering some of the best volcanic views in all of Japan, which of course, means some of the best places to hike in Japan also. Two-for-one!
How to get to and around Akan Mashu National Park
Because the Akan Mashu National Park is enormous in size and public transport is infrequent and often more hassle than it's worth, it's advisable to hire a car for the day. 
If you're travelling by car the national park can be reached in a matter of hours from Bihoro, Kushiro or Abashiri. Cars can be hired from the airports at the retrospective locations.
With all that being said, the Akan Bus runs a few buses per day to travel between Kushiro and Lake Akan all year round. Unfortunately, public transport between the eastern and western portions of the national park is only offered for a few weeks in summer and autumn – making a hefty hike for the duration of the rest of the year.
Some sightseeing buses also can be found, as well as specific bus services that operate in and around specific lakes such as Lake Mashu and Lake Kussharo.
4. Daisetsuzan National Park
Another awe-inspiring national park, the Daisetsuzan National Park. As well as Akan National Park, Diasetsuzan also resides in Hokkaidō and they both also happen to be the two oldest national parks there! 
What is Daisetsuzan Best Known For
Other than being the largest national park in Japan, Daisetsuzan is known for its mountains, trees, wilderness, and nature as far as the eye can see. A true hiker's dream, perfect for hiking, mountain walking trails, self-guided walks in Japan and so much more. On top of that, Daisetsuzan is the first place in Japan to see both snow and fall colours each autumn in Japan.
In fact, when we say towering landscapes we're not lying. On average the mountain range is roughly 2,000 metres high which has earnt the national park two tremendous nicknames in "the roof of Hokkaido" and "the playground of the gods".
Daisetsuzan is one of the very few places in Japan where it's possible to make week-long hikes/walks out of a visit there. The mass of greenery and mountainous terrain leaves endless possibilities for hiking adventures, as well as a selection of shorter walks. 
Daisetsuzan's Wildlife
Not only is Diasetsuzan home to breathtaking sights but also a whole host of critters. From over 250 species of alpine plants to furry woodland creatures and even alpine butterflies that can only be found in the Daisetsuzan mountain range, there is no shortage of things to see and do.

A common sight in Daisetsuzan is the Aleutian Avens, an alpine shrub native to the mountains of Hokkaido. It's easy to spot these flowers as they have five, white petals in full bloom and can most prominently be seen in July. 
And if you're looking for something a little more animated, Daisetsuzan is home to a selection of cute little animals and bugs. First is the Japanese Pika (or naki-usagi) meaning "singing rabbit" is a small mammal that lives on rocky terrain at high altitudes. 
Another native critter to watch out for is the Usubakicho, a beautifully radiant butterfly native to Daisetsuzan with yellow, semi-transparent wings. Something to brighten up your self-guided walks in Japan – not that you'll need it!
5. Kirishima-Kinkowan National Park

Kirishima or Kirishima-Kinkowan National Park resides in the South of Japan, Kyūshū. The park lies on a border between the Kagoshima and the Miyazaki prefecture, most popularly known for its volcanic terrain and onsen. 
Kirishima is considered one of Japan's most transcendent views with its array of volcanic cones and craters. Unsurprisingly, this hot destination is also known for its relaxing hot springs, perfect for a wind down after a long day walking.
Kirishima Mountains Hiking Trails
The Kirishima Mountains are a perfect destination for walking and hiking in Japan, exploring with trails that are suitable for short walks or full-blown day treks. The choice is completely up to you, however, we would recommend starting at Ebino Kogen as it is a great starting point for hikers of all levels. 
Just a short hike from Ebino Kogen is the peak of Mt. Karakuni-dake which offers a detailed overview of the landscape below (that is when your vision isn't obscured by fog). Kirishima directly translates to "fog island" and as you can imagine can make it quite difficult to see sometimes.
From there, there is no shortage of sights to see during your walking trail travels in Kirishima including Mt. Shinmoe-dake, the smoking crater of an active volcano, the mesmerizing blue waters of the Onami crater lake, or stopping to pray at the ancient shrine of Kirishima Jingu.
It's often forgotten when looking at the greenery of the park that Kirishima is steeped in ancient mythology. A remainder of the story of the birth of the first island in Japan can be found at Mt. Takachiho, in the form of the sacred spear. It was that spear Ninigi no Mikoto, the grandson of the Sun of Goddess Amaterasu was said to have used to make his travel to Earth.
The Kirishima Mountains offer a truly unforgettable hiking trail in Japan, with rich lore, inspiring views and a serious work out!
Kirishima Onsen and Sakurajima
The second half of the Kirishima-Kinkowan National Park is less targeted towards hiking and walking, and more towards culture, food and people. Maruo Onsen is the largest hot spring town of Kirishima Onsen and should be a prime stop after a full day of trekking. 
Other notable mentions are the Maruo Falls at the edge of Kirishima Onsen, Kirishima Jingu Shrine and Mt. Sakurajima, a humongous active volcano that sits bang in the middle of the northern part of Kagoshima Bay. 
It should be mentioned due to the sheer size of Kirishma's national park that public transport can often be inconvenient so it's probably best to hire a car to travel around. Unless of course you're in the mood to hike, then by all means.
6. Yakushima (Island) National Park
Yakushima is an island just south of Kyushu, a very green one at that. It is an extremely forested island that is a protected space, it also includes part of the Ōsumi Islands, the entire island of Kuchinoerabu-jima and some surrounding marine areas.
Yakushima Island offers a plethora of walking trails in Japan with must-see historical sights, rich forests and exciting marine life.
What is Yakushima Most Known For 
The island of Yakushima is well known for being a peaceful, tranquil place with walking trails across a landscape of holy peaks and bay islands. Yakushima has an abundance of hiking opportunities, most prominently being the long trek to the 7,000 year old cedar tree Jomonsugi, said to be the oldest tree in Japan dating back to the Jomon period. One of the best places to hike in Japan if we don't say so ourselves. 
Other than that, Yakushima is known for being the greenest and wettest place in the entire country of Japan, receiving more rainfall than anywhere else. 
How Long do you Need to Explore Yakushima 
If you're in the mood for some serious hiking in Japan, Yakushima is the place for you. You'll need anywhere between a three-four day period and a week to experience the green island in all its glory. This is ample time to visit the forests, waterfalls, the smallest mangrove forest in the world and onsen. 
However, due to Yakushima being known for not only its greenier but also its torrential downpours it's preferential to plan around this to make the most of your visit. 
How to get to Yakushima 
There are a handful of means to get to Yakushima island, very few of which particularly balance both finance and efficiency. You have the choice between airplane (which of course is the quickest route but also the most expensive), or the Shinkansen bullet train which takes you to Kagoshima. 
From there you would then need to transfer by ferry, jetfoil or airplane. It's also worth noting that the ferry terminals are more than an hours distance away from Kagoshima airport and thus would need planning beforehand to arrange transport.
7. Iriomote Island
Iriomote Island is one of the exotic Yaeyama Islands in southwestern Japan. In which jungles and mangrove swamps cover the island to offer scenic beaches, playful water activities and a national park to satisfy all your hiking and walking needs during your stay in Japan.
What to do on Iriomote Island
There is no shortage of things to do in Iriomote Island, being river activities, visiting beaches or even cart rides pulled by a water buffalo. As the island is for the majority, water and marine areas, snorkelling, swimming, kayaking, fishing and sailing are all popular activities, alongside the challenging hiking trails in true Japanese fashion.
As most of the island's land is inhabited by jungle some of the interior is only accessible by certain rivers, Urauchigawa (Urauchi River) and Nakamagawa (Nakama River). Jungle boat cruises are organised on both of these rivers to get around and see more of the island which would otherwise be unavailable. 
Iriomote Island also has its fair share of exquisite beaches, with soft gradient sand and bright blue waters. These beaches are popular for water activities such as swimming, snorkelling etc. but some can only be accessible by boat. 
You should always be careful of strong currents pulling you further out to sea and especially of poisonous creatures such as the Habu Jellyfish that come out in June to October. 
How to get to Iriomote Island
As Iriomote is an island, and a forest-infused one at that, there isn't a whole load of travel options. In fact, Iriomote Island only has one main road that leads in and out, which runs across the coast from from Shirahama to Ohara. A public bus runs between these two locations five times a day. 
There are also a few other transport options in ferries (including car ferries) and the ability to rent a car and drive there yourself. 
8. Mount Misen
Mount Misen is the sacred mountain in Itsukushima, Hiroshima and in fact, at 500 metres above sea level is the highest point in Miyajima. Mount Misen makes for a spectacular view once you have reached the summit, and provides one of the best hikes in Japan.
Hiking Trails to Mount Misen
There are several hiking trails leading up to the summit of Mount Misen which is located in the centre of the island. The Momijidani Course, the Daisho-in Course and the Omoto Course. The Momijidani Course while the shortest is actually the steepest and takes you through a route that is for the most part, forest. 
Whichever hiking trail you choose to tackle to reach the Summit of Mount Misen it should only take you between an hour and a half to two hours. Which is quite a short walk in Japan, considering some of the more length entries to our list.
Getting to and around Mount Misen
To reach Mount Misen you will first need to walk through the entrance of the Itsukushima Shrine. One of the prime ways of travelling around Mount Misen other than hiking is ropeways, which while considerably less so still includes a fair bit of walking. 
The rope station can be found a short distance from Itsukushima Shrine or a slightly longer distance from the Miyajima ferry pier. The ride itself to reach Mount Misen takes about twenty minutes alongside a few transfers along the way. 
Even when reaching the ropeway's upper station, Shishi-iwa Observatory there is still a thirty or so minute walk/hike ahead of you to reach the summit. To reach the summit there is first a considerably steep hiking trail to confront first, followed by the Misen Hondo and Reikado buildings to let you know you're in the right place.
After all the effort you've gone to get to the summit, ropeways, steep paths, Mount Misen offers possibly one of the most rewarding places to hike in Japan.
9. Kumano
Kumano is a region located at the southern tip Kii Peninsula (the largest peninsula in Japan), it is heavily green and steeped in religious sentiment. The ancient Kumano region is nested within the Wakayama Prefecture and is just south of Osaka.
Kumano Kodo alongside some of the other entries on our list provides a true experience to not only hike in Japan, but become one with a rich history and culture. 
What is Kumano Known For
Kumano Kodo refers to a network of pilgrims that connects all the shrines together and to other prominent religious areas in the region. These shrines can be reduced down to three significant mentions, the Hongu Taisha, Nachi Taisha and Hayatama Taisha – also commonly known as Kumano Sanzan. 
Pilgrims travel to the Kumano Sanzan via walking trails and have done so for more than a thousand years. The shrines themselves are much older than that and even have mentions of Japanese mythology. 
In fact, in 2004 the Kumano Region became a UNESCO designated World Heritage Site.
Hiking the Pilgrimage Route of Kumano
Hiking the pilgrimage route, also known as Kumano Kodo is far from a small feat. The walk itself due to being a route that passes through three mountain treks typically takes four days to complete. This walk will bring fellow hikers through mountainous terrain, small villages, shrines, and large cedar forests. Truly one of the most encompassing and best hiking trails in Japan.
The hiking trails of Kumano Kodo are easily navigated, the walking paths are regularly maintained and are marked with signs in both Japanese and English. There are also trail markers every so often that let you know how far you are down the trail and where you are. Which is far more than can be said for other places to hike in Japan.
Even though Kumano Kodo can be hiked all year long, there are certain times of year that are going to be the ideal sweet spots to go. Spring and fall offer the most comfortable temperatures as well as blossoming or falling foliage (depending on when you go). 
It's also a noteworthy mention that August and September are peak typhoon season and can bring detrimental downpours that can skewer your hike by causing landslides. 
Kamikochi
Kamikochi located in the Northern Japanese Alps is a remote mountainous region within the Hida mountains range in the western segment of the Nagano Prefecture. Kamikochi is actually contained within the Chubu Sangaku National Park and is thus preserved in its natural state.
The rich views, vastness and simplicity of Kamikochi is why the staggering valley is considered one of the best walking trails in Japan. 
What is Kamikochi Known For
Kamikochi is a charming, flat valley which is encompassed by breathtaking mountains which contribute to the overall beauty of the trip. The valley has a vast assortment of hiking trails at its disposal, varying from short trails to multi-day hiking adventures that span different mountains and parts of the region.
From the surreal volcanic Mt. Yakedake, to the pleasing Mt. Chogatake and Tokugo Pass for a walk suitable for any skill, Kamikochi offers a truly unforgettable hiking experience in Japan for anyone with a shared passion for the outdoors.
On top of awe inspiring hiking trails, Kamikochi is home to more than a handful of must-see sightseeing spots. Taisho and Tashiro ponds, Weston Monument, and Kappa Bridge are just a small glimpse into what Kamikochi has to offer.
Getting to and around Kamikochi
As Kamikochi is a part of the Chubu Sangaku National Park, there are a select few ways to travel to the remote valley. The first and most popular way is public transportation – there are a handful of buses you can catch but the direct route to Kamikochi is preferred. You can catch these at Shinjuku, Tokyo, Shibuya, Osaka and Nagano. 
The other option is by bicycle, which of course offers the added benefit of additional exercise, more freedom and so on. But it can also be quite challenging as 70% of all Japan is mountainous and Kamikochi especially is full of them. 
The last option is by car, however this comes with more restrictions than the other two options. As Kamikochi is a private area, private cars, motorcycles etc. are not allowed to enter Kamokochi – there are parking spaces nearby outside Kamikochi, Sawando and Hirayu that you can pay to park in. You would then need to decide between either a taxi or a bus to actually reach Kamikochi itself. 
Any more questions about the best places to hike in Japan for foreigners? Get in touch with us!