What is it like living in Gunma? Gunma Japan Guide
Welcome to the Gunma Japan guide. Gunma is a landlocked prefecture located north of Tokyo, neighboring Nagano and Niigata prefectures, and is surrounded by incredibly beautiful scenery and countless hot spring resorts (onsens).
Gunma is also a great place for skiing in the winter months as it has many mountains. So what is it like living in Gunma? Join Link Japan Careers as we find out!
In this Gunma travel guide, we'll tell you about gunma sightseeing, gunma jobs and more; we'll be your complete Gunma Japan guide.
Gunma Sightseeing – Places of Gunma prefecture
If you want to go Gunma sightseeing, below are some beautiful places to visit.


Takasaki city
First on our Gunma Japan guide is Takasaki city. It is the largest city in terms of population in Gunma beating Maebashi and is famous for being the city that created the daruma dolls that are widespread throughout Japan. It is also famous for holding the Yamada Denki company headquarters, so it's a great place for Gunma Jobs. Takasaki is quite accessible to several famous sites, including the Kumano shrine, Gunma Safari Park (by car), and mount Haruna. Meaning, it's ideal for Gunma sightseeing. 
Kumano Shrine
The Kumano shrine  is an ideal spot for Gunma sightseeing. The interesting shrine that is located within both the borders of Gunma and Nagano. It is roughly an hour and twenty-minute drive from Takasaki. The shrine itself is famous for being a power spot, and its Shinano tree is famous for being rumored to strengthen relationship connections. As a result, it is quite popular with matchmaking couples. There are also plenty of walking trails on both the Gunma and Nagano sides and throughout Karizawa.
Gunma safari park
Another ideal place for Gunma sightseeing is Gunma Safari park. Located south of Tomioka and roughly a forty-minute drive from Takasaki, Gunma safari park is a fun place to visit. There are several tour options available, including driving within the park or boarding one of the tour buses (shaped like various animals). The park itself has several animals (according to the website, over one-hundred), including animals such as white tigers. What's more, located next door is a small theme park, so you will not be running out of things to do.
To see more click here.
Tomioka silk mill
If you are more interested in history from our Gunma Japan guide, there is a lot more to see in Tomioka, such as its famous Tomioka silk mill. Although being closed since 1987, the site has become a UNESCO world heritage site as it commemorates Japan's first government ran silk factoring in 1872. The architecture of the modern silk factory buildings is well preserved. It showed an interesting example of Japan's silk production when Japan tried to become the modern country it is seen today.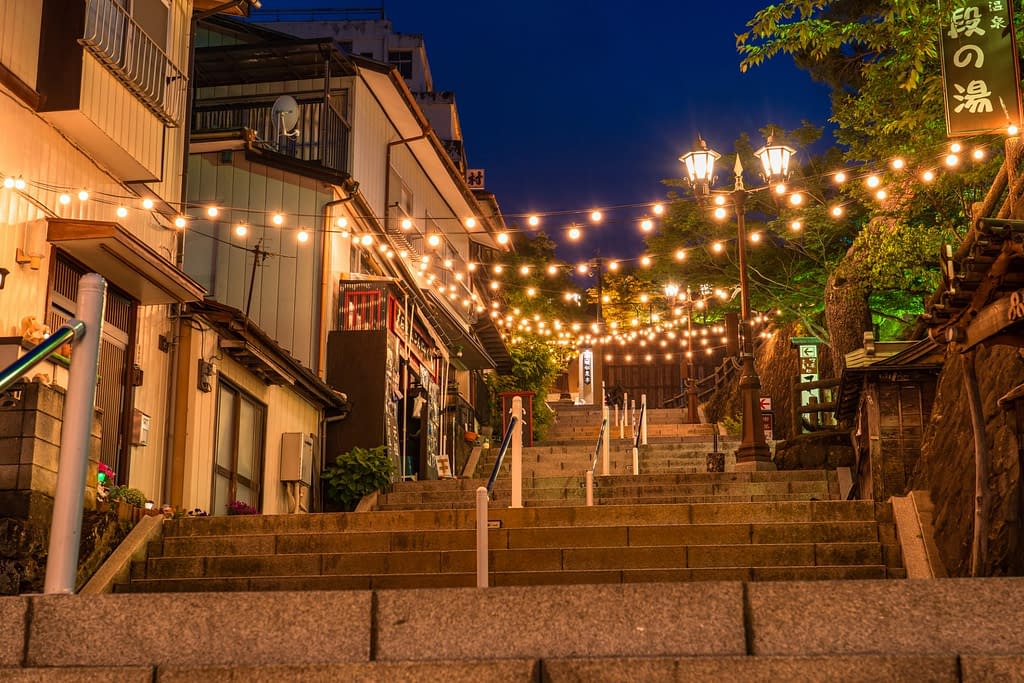 Kusatsu
Next on our Gunma Japan guide is Kasutsu. It is a popular hot spring town located between Nagano city and Takasaki. This onsen town is an iconic part of Gunma and, in turn, ideal for Gunma sightseeing. The Kusatsu onsen itself can refer to several places, including the Yubatake, which is located in the town's center, the Sainokawara Rotemburo – a large communal outdoor bath surrounded by nature, or the Otakinoyu – A place with multiple baths. The town also has the largest flow of onsen water in Japan. 
In addition to the main locations listed above, the town also has a dozen smaller baths tourists or locals can use. Finally, no onsen town would be complete without the ashiyu (Foot baths). There is definitely something special about this town, and if you can make the journey, Kusatsu Onsen is a great place to see the beautiful landscape. 
Oze National Park
Another great location for Gunma sightseeing is Oze. It's arguably the most famous park in Gunma. The park has many popular hikes and trails that are very popular to walk during the late spring season or fall. The hike trails themselves are not inclined so that a decent hiker can complete most of them within six to eight hours. Even if you cannot complete the hike in one day, you can stay at one of the many mountain huts located within the park with some proper advance booking.
Ikaho Onsen
Ikaho Onsen is a beautiful spot for Gunma sightseeing. Located a forty-five-minute drive from Takasaki town, and while not as famous as Kusatsu, it is still well known for its hot springs, temples, and some stone stairs (rumored to be over 500m!) 
The hot spring water itself has a slightly reddish hue, and this is due to its high iron concentration. 
The water is said to improve blood circulation and can promote health in many ways. There are many public baths available for day travels to visit, but you can also stay at one of the many ryokans. 
Ikaho Onsen is accessible by public transport but is a little inconvenient, and a trip from Takasaki is likely to take a couple of hours. If you do decide to travel by bus and train, we recommend staying the night. 
Ikaho Onsen is also famous for the Mizusawa temple. This temple has some unique architecture with its two-story pagoda. It is also famous for its types of udon. In particular, the Mizusawa udon – one of the 3 most recognized udon noodles in Japan!
Lake Haruna
If you're going Gunma sightseeing, you won't want to miss Lake Haruna. Lake Haruna is a beautiful lake with some ryokans and natural sites to visit. There is also a ropeway that you can use that offers sights of Mount Haruna. What's more, it is only twenty minutes drive from Ikaho onsen, so it is an easy place to access on the same day.
Minakami Town
Finally on the list of places of our Gunma travel guide is Minakami town. It is not only an attractive hot springs town with some of the most iconic sights and incredible landscape of Gunma, but it is also a popular site for some extreme sports such as bungee jumping, white-water rafting, and canyoneering! The best time to visit the Minakami area is in April and June, where the snow caps have melted their most. If you want a little bit of excitement during your relaxation at a hot spring resort, we recommend checking out Minakami.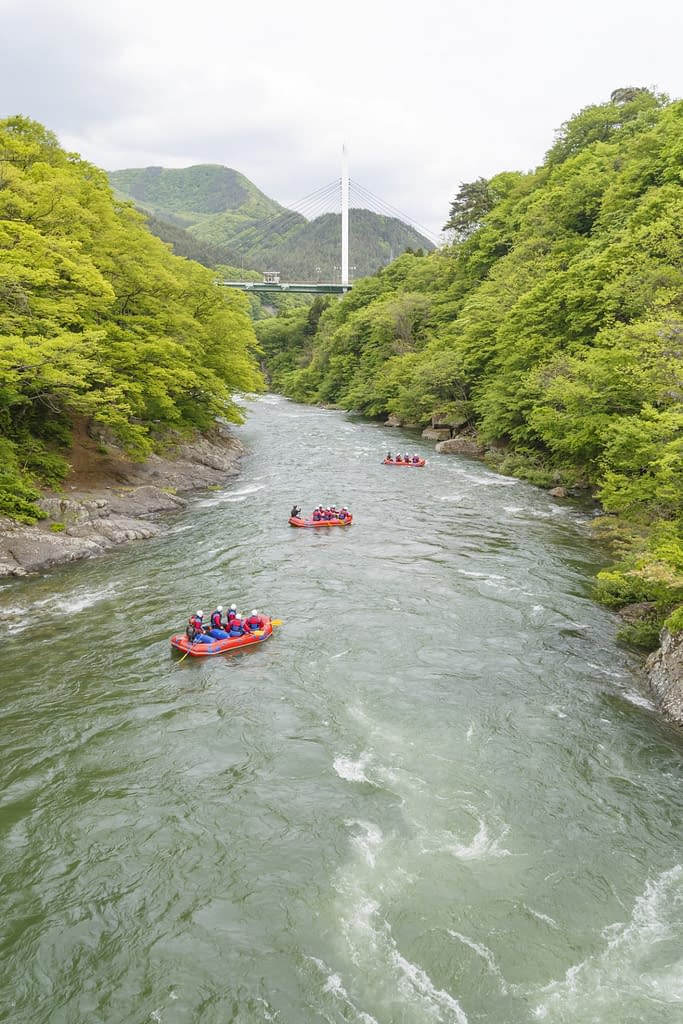 What to eat in Gunma?
Our Gunma Japan guide wouldn't be complete without letting you know about some of the best places to eat! Find out some of the nicest Gunma food below.
Konnyaku
Konnyaku (Konjac) is made from a type of plant, and besides being gluten-free, it also has basically zero calories. It's an important part of our Gunma travel guide because 90% of Konnyaku for Japan is made in Gunma. It is so popular there is even a Konnyaku theme park. If you find yourself living in Gunma you are likely to eat Konnyaku at some stage.
Yakimanju
Yakimanju is not your regular Manju (Japanese sweet) for all extents and purposes. It is a monster sweet and is huge. Manju is a very popular sweet in Japan, and in Maebashi, they took it to the next level by making a large Manju covered in miso paste. It even has its own festival on January 11th.
Okkirikomi
Okkirikomi is a type of soup and noodles that is somewhat of a famous dish in Gunma, made from local vegetables including daikon radishes.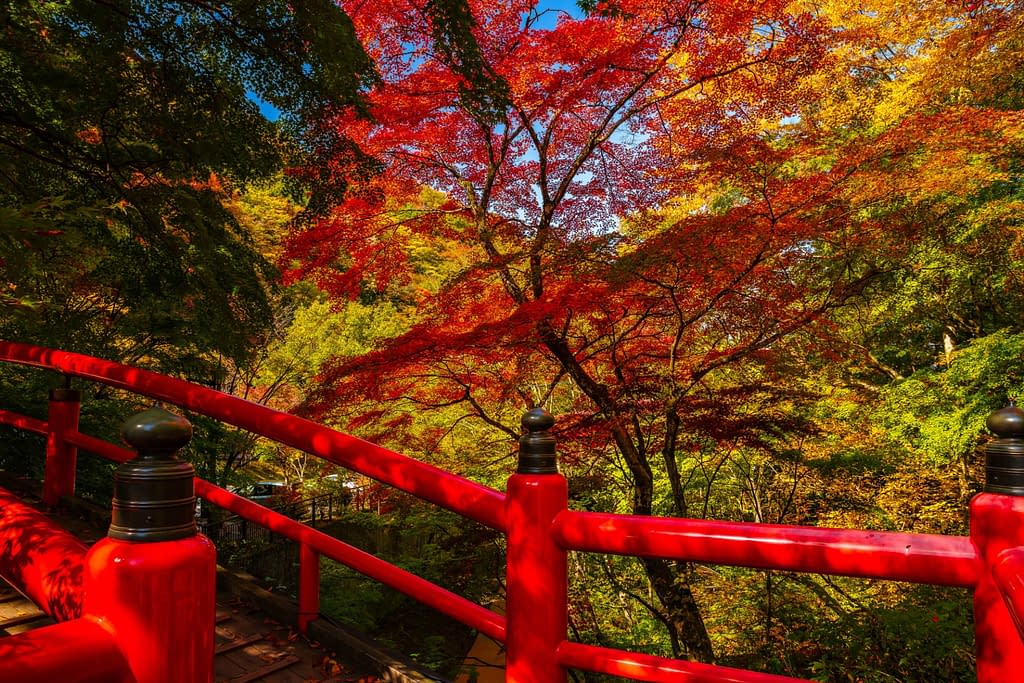 Gunma is a prefecture with a number of hot springs and exciting hike trails. If you are a fan of nature and beautiful scenery, we recommend consider living in Gunma prefecture, today. For a look at all of our prefecture coverage be sure to check out our link here.
Did you enjoy our Gunma Japan guide?
We hope our post gave you a great overview of Gunma and the great places to visit whilst you're there. If you're looking for Gunma jobs, head over to our job listings page and see if there is anything that looks right for you.