How to pass a Japanese Interview in 2021
If you are working in society the chance that you had a job interview, and passed it, is pretty high. Also unless you were a corporate Hercules there is a good chance that you also 'failed' a couple.
However
, failure is likely not the right word as many job interviews are all about "values." This is quite particular in Japan
.
So how do you pass a Japanese Interview?
In this article Link Japan careers look at giving you the break down of common questions and how to give the best answer and a good impression
.
Your chances are already looking pretty good to pass the Japanese Interview.
As a basic rule, if you have
been invited
to an interview with a Japanese company you should know your chances of
being hired
are actually already pretty high
. This is even more likely if a senior member is also joining the interview.
In Japan a lot of work decisions
are made by
consensus and senior managers often will delegate to their mid-level managers to make particular decisions on their behalf
.
This can be quite common in hiring, where an interview is more of a formal sign-off that senior management makes
.
However
, don't be too complacent.
What should I do before the Japanese interview?
1) Make sure you have an appropriate outfit.
In Japan making a good first impression is
really
important (it
is called
第一印象).
It is quite common to
be assessed
not only on your answers but also on your actions, and wearing the right attire is one part of the interview process
. If you are unsure what to wear look at getting an appropriate suit, blazer, and button-down shirts. Safe colors are usually navy and charcoal-grey.
To the men reading this article, I recommend to avoid going with the full-black suit (
commonly
referred to as a recruit suit), unless you are a fresh graduate
. Be confident. You are an adult professional working in Japan. Stores like

Suit select

,

Aoki

, and

Aoyama

all have affordable non-black suits. 
Look for simple colors that are conservative, but don't be afraid to try things like a subtle pin-stripe
.
Naturally
, you want to make a good impression but if you are coming in mid-career, there may be an expectation on you to have a certain gravitas that is above the average entry-level staff
. 
"Avoid black jackets and black ties" 
Many people know this faux pas and yet they still commit it. If you pair a black suit it with a black tie in Japan, it will give the impression of a funeral. What is a safe tie? Try looking for a pastel color with minimal images or patterns. In summary, it is best to avoid bold colors and
simply
go with the expected outfit.
2) Prepare your Japanese responses
Just
like English interviews Japanese Job interviews also contain
a number of
behavioral-focused questions
.
However
, each question is usually designed to elicit a particular response. The benefit of this is you can prepare your answers to cover those topics. We will look at some of the common questions you will
be answered
later in the article.
However
,
be prepared
to answer in Japanese.
Whether you have your N1 JLPT or
perhaps
you are more of an Enkai diplomat, you will need to study and prepare your Japanese
.
If you can't speak Japanese well, that is not a problem (although you will want to be at a level where you can hold a normal conversation)
. Make an effort in preparing your answer to the best of your ability, don't try to speak beyond your level. If you cannot speak Keigo, now is not the time to try and speak Keigo. Speak at your level with confidence and to the best of your ability and you will make a better impression.
3) Brush up on your Japanese etiquette.
Japan's culture is usually quite up there in the high-context environment so a lot of what should
be done
is not said
directly
. One of the ways this manifests itself in the culture is through behavior patterns called (型). You can see kata in most structured situations like job interviews. An example would be when you enter the room for the interview what do you say? How do you approach the seat? When do you sit down? Knowing the kata is a great way to avoid creating a negative impression.
Also unlike the Japanese language, the way you conduct yourself during kata is quite straight forward once you know it
. Having great manners will get you far in Japan, and help you to pass the Japanese interview.
4) Know where the interview
is located
.
Being punctual to your job interview is so important. If you have time try to arrive at the site of the interview at least 30 minutes before. Better yet, if it is possible, try and case the site the day before so you know exactly where it is.
Once you have arrived at the site (30 minutes before the interview) treat yourself to a coffee or tea at a nearby cafe, or find a quiet spot to still your nerves
. You are going to be fine.
At 15 minutes before the interview present yourself to reception and let them know you are here for an interview
.
If there is no reception staff, look for a phone and call in explaining you have an interview and the staff member and division he or she
is involved
in
.
How to show the correct etiquette when entering the room?
In a formal Japanese interview situation, you will likely
be directed
to a room where the interview will take place
. Next, you will want to do the following in the exact order. 1) Knock on the door three times and say 失礼します。2) Wait for the person inside to say どうぞ(お入りください).  3) Enter the room, close the door, face the interviewer/s and say 失礼します once more, and bow. 4) Walk to your chair, and standing behind it, say (your name)と申します。どうぞよろしくお願い致します。5) Bow again with your arms by your side. 6) At this point, the interviewer will say どうぞ座ってください.
7) Once you hear this,
gently
pull out the chair (if it
is tucked
) and sit down with your back straight and hands flat on your legs
. If you can follow this, you will be displaying the correct behavior and will be getting offers in no time.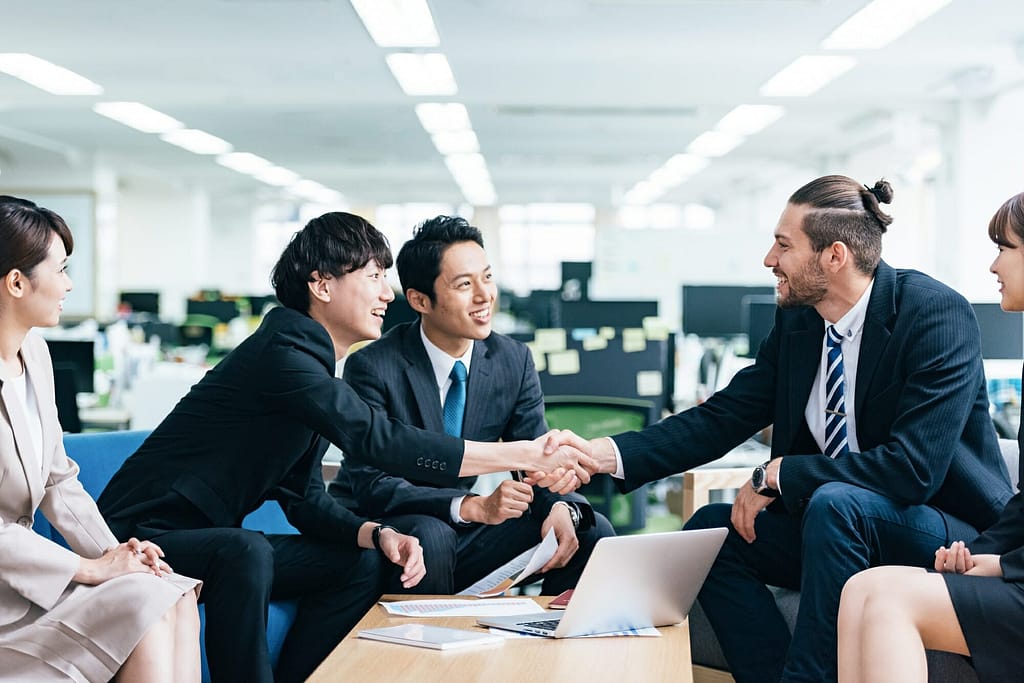 Sample of six type of questions you will likely to
be asked
.
1)自己紹介をお願いします/ Please give us a self-introduction.
Giving a good self-introduction is an essential part of making a great impression. Interviewers will almost always ask this question in primary screenings.
The key to giving a good self-introduction is to recognize what its purpose is in the interview. That purpose is to create a good atmosphere for the interview to build from.
Use this time to
briefly
speak of 1) who you are, 2) Your university history (or if you are mid-career your previous role) 3) A hobby or activity you enjoy, and 4) Finally thank them for their time
.
As we wrote before a basic rule for making a good impression is to not overthink, and
just
speak at the level you are comfortable with
.
However
, an appropriate answer would look something like this.
E.g. ○大学○学部の、○○と申します。私は「挑戦する」人間です。未経験でも自分が成長できると思う環境があれば、一歩踏み出して挑戦してきました。趣味は居合道です。本日、ありがとうございます。これからもよろしくお願いします。
2)自己PRをお願いします/ Please give us a self-evaluation.
Unlike the self-introduction which is usually used to create a good atmosphere and calm nerves, the self-evaluation has a clear expectation and a pattern which you should try to answer using
. A 自己PR usually will follow the pattern of S1 (my strength), S2 (why this role), S3 (how it will benefit the company).
Also unlike other parts of the interview where you may want to appear as more of the humble expert. Feel free with the self-evaluation to
openly
state your achievements.
However
,
be prepared
to give specific examples that have visible results.
Bonus tip: look at using the verb 生かす and phrases like 貢献させて頂きたいと考えます。
私はインターン時、約3カ月間法人営業に従事しました。その中で、徹底して相手に傾聴しコミュニケーションを行うことで信頼を構築する大切さを知りました。…etc
3)あなたの強みを教えてください/ Please tell us about your strong points.
This is
similar to
the previous question, you want to use this as an opportunity to sell your skillset but not
be seen
as conceited
.
The correct way of answering this question is to list your strengths
objectively
and how they relate to the role, giving specific examples
. If you do this you can pass your Japanese interview in no time!
私の強みは、主体的に考え、周囲を巻き込みながら、問題を解決する方法を徹底的に考え抜くことです。その根拠として、インターンをしていた会社でチームの売上目標に対し120%の達成に貢献した経験があります etc
4)当社の業界の希望する理由を教えてください/ Why do you want to work in our company's field?
This is also a common question, but also has a few complicated steps to answering it.
The order we would suggest in answering it would be: 1) What you want to learn, 2) what you can offer, but 3) the challenge, so 4) the solution (working for the company)
.
企業の人材育成に必要なスキルや経営視点を学びたいと思っています。私は、主体的に考え、周囲を巻き込みながら、問題を解決する方法を徹底的に考え抜くことが強みです。経営状況によって短期視点となり人材育成の優先順位を下げてしまう企業が世の中にが多いと感じていますが、そういった企業のマインドを変え、長期での企業価値向上に貢献したいと思っています。
A quick note, no matter how you decide to answer a question in Japan, be sure to end on a high note.
5) なぜ弊社を志望されたのですか?orなぜ当社に応募されたのですか?/ Please tell me why you applied to this company.
This question is quite
similar to
the above one,
however
, it pertains more to the company itself.
In the same way as the previous question, the key to answering this one is to show your knowledge of the company and its products and services while highlighting your strengths and answering how you can help them and their stakeholders more
.
御社が目指している『徹底的なクライアント目線のシステム』という点が、私が常に目指しているシステム像と一致していた為、志望いたしました。今まで多くのソフトウエア開発に携わり、その時々ではやりがいを感じていたものの、「果たして本当にクライアントの問題を解決するものなのだろうか」と疑問を抱くときもありました。御社ではクライアントへのヒアリングにもエンジニアが同行し、徹底的に課題分析を行うと知り、ここでなら自分の能力や経験を活かして会社とともに同じゴールへ向かって一緒に成長・発展できると考えております。プロジェクトマネジャーとしての経験もあり、チームのマネジメント経験も自信がありますので、御社で即戦力として貢献できると思っております。
6) なぜ転職をしようと思われたのですか?」or「転職理由を教えてください。/Please tell me why you decided to change your job.
In most job interviews in Japan, you will likely
be asked
this question.
What the interviewer is trying to find out is if you will be a good match personality-wise with their current teams
.
It is important that even if you did have a negative experience at your previous work that you do not put down that company
. Instead, try and focus on listing the lessons you learned and how you want to continue growing. If you do mention it was because of something that you did, own it and list the steps you are taking to improve it. By doing this you will be on your way to passing your Japanese interview.
A.「今まで約5年間にわたって家電製品の販売を担当しておりました。その中で、お客様からユーザーとしての生の声を聞く機会が多くあったのですが、販売という仕事ではお客様が抱える悩みや課題のごく一部しか解決できないと感じました。現場というお客様に一番近い場所だからこそ得ることができた情報を活かして、より多くの人々の悩みを解決できる商品を開発したいという思いから、今回転職を決意しました。また、大学で勉強していたエンジニアリングの知識を活かせる仕事で自分自身のキャリアを築いていきたいと思ったことも転職を決意した要因の一つです。
Taboo questions you may be asked in Japanese interviews
Below are a few of the more unexpected questions you may be asked in a Japanese job interview. The key point is not to look visibly shocked when asked, even if it's something that may be frowned upon, socially unacceptable, or even illegal to ask in your home country.
You might feel like "How is someone asking me this with a straight face?" But they do!
Prepare yourself for the worst interview questions, so you can plan your reactions.
Age – "How old are you?"
Age is seen as a kind of respect and a way of establishing hierarchy in a Japanese company. If you're young, a job interviewer may ask you something like "Do you feel old/mature enough to take on this responsibility?". If you're older, you may be asked if you feel comfortable working with young people. Don't be insulted by being asked your age during a job interview in Japan – Japan is well-known for treating its elders with respect.
Sex – "Do you think it's ok for a woman to do this job?"
Compared to some countries, Japan can be quite backwards when it comes to women's rights. If you're going into a sector or role that's traditionally dominated by the opposite sex, you may be asked "Do you think it's ok for a woman to do this kind of job?" Don't be visibly offended in the interview to the point it shuts down, wait until after it ends. This may indicate that the company is more conservative, and you can choose to turn the job offer down.
Address – "Whereabouts in Tokyo do you live?"
Particularly, you may be asked what part of the city you live in and what station you're near. Some interviewers want to judge the socio-economic class of the person by the location they live. Certain areas of Tokyo and Japan are associated with different areas of socio-economic background – for example, whether you're from a more affluent or working-class area.
Marital Status – "Are you married or in a relationship?"
The interviewer might want to know if you're single or married, and where and how you can be assigned. They may need to know whether you can be sent to work in another part of the country or another office branch in Japan. Are you able to take a promotion that involves travel, or are you in a relationship that may affect the personnel decisions of the company? Consider how much flexibility you want to have travel-wise, and ask questions too.
Children/Dependents – "Do you have any children, are you planning to?"
This is usually to be accommodating – many Japanese companies have families with small children. It's not right to ask, but some companies may ask about your child-bearing plans. If you're a woman, you may want to shy away from this question. It's entirely up to you how much you share. Being asked this won't have anything to do with the job, but it may show that it's a more conservative company – you may even decide to turn down the offer.
Unsure or worried about how to respond to bad interview questions, or want to know more about what to avoid in job interviews? Our team can help prepare and support you.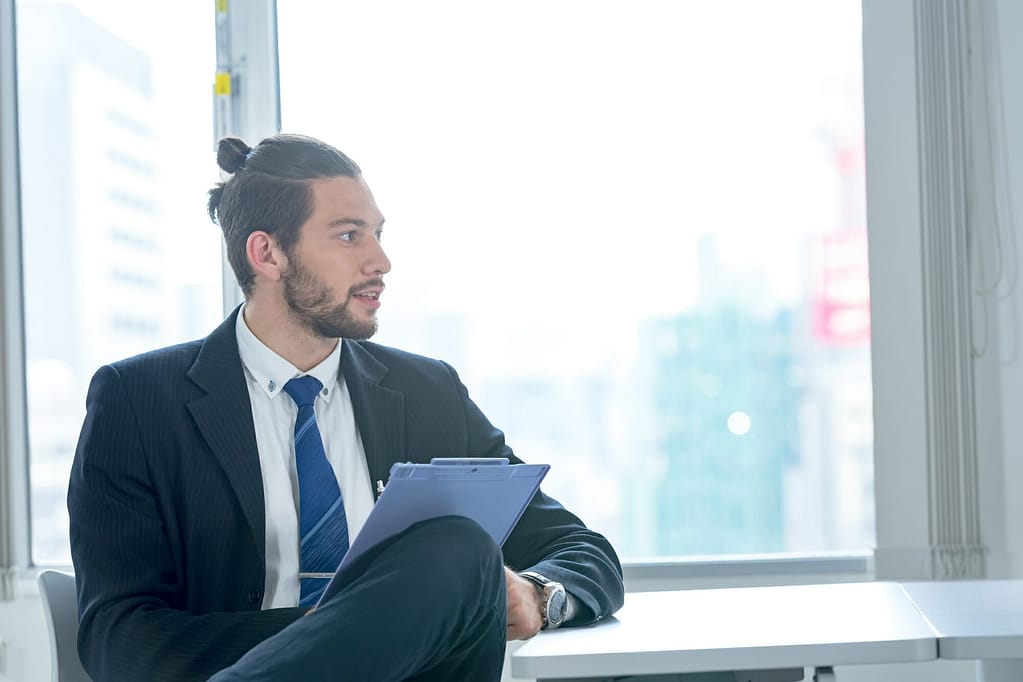 Questions for the interviewer 
Once you have finished answering the interviewer's questions, you may have an opportunity to interview the company itself
. During this time you will want to be extra aware of what you are asking and use common sense.
If it is the first interview, you should try to avoid asking topics like holidays, salary, raises, or bonuses
.
If you asking these questions, you run the risk of
being seen
as mercenary, and making a positive impression is quite important in Japan
. 
1) "Avoid asking topics like holidays, salary, raises and bonuses"
In addition
to money questions, try not to ask questions that can
be read
easily
on the company's home page. So questions like: What is the company's vision, What is the company's mission etc.
2) "Avoid asking obvious questions that google can answer"
Finally, this next one is a little hard to explain, but particularly if you are entering a management role or a mid-career level, try not to ask about what opportunities the company will give you to learn or study more
. The reason for this is the company is viewing you as a mid-level professional, someone who is a self-starter.
Your future company will want to see you as competent for the role and not having gaps in knowledge from the beginning.
3) Avoid asking about what the company can do for you (even
indirectly
)
So what questions can you ask the interviewer to pass your Japanese Interview? 
Questions that show a good part of quid-pro-quo are likely to be safe.
E.g. What kind of skill do the people who have performed well and have
been evaluated
in your company have?" I would like to know so if given the chance, I could contribute also.
E.g. "I have worked as a ~~~ and have acquired 
this
and
that
skills. What else do you think is necessary to learn,
in order to
perform well and contribute to your company?"
In summary
A large part of having a successful Japanese will
ultimately
come down to your ability(confidence) in the language and the skill of navigating through the "Kata" or steps of the interview process
. Practice makes perfect, and there are many jobs so even if you don't get the first, keep at it and you will pass your Japanese interview.
At Link Japan Careers we have had good success in placing foreign professionals in a variety of industries
. If you would like to

know more make an application today

and we would love to help you reach your best here in Japan.